The Monkeys and Koalas visit Father Christmas
The Monkeys had a wonderful outing with their fellow Moyenne Section friends, the Koalas, to the Hameaux du Pere Noel just before Christmas!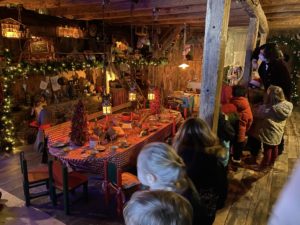 The children were so excited to take the bus there together! We went to Mother Christmas's house and listened to a story told by one of Santa's sisters, which had all the children enthralled!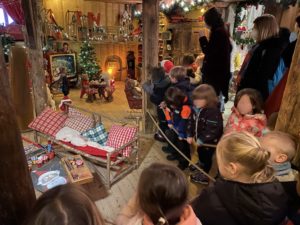 We got to meet the Sandman and were shown around Father Christmas's house by an elf! He showed the children where the other elves ate and slept and where they make the toys for Christmas! We also got to see how Christmas decorations are made and even got to see Father Christmas who was very happy to take some time to chat with the children and answer their questions! After a super fun picnic lunch, we all got back on the bus just in time for a well-earned nap when we got back to school! The children (and the adults) had such a fun morning! Thank you for letting us spend a fun morning at your house Santa!